Jumping Rubber Band Magic Trick: Amazing Leap of Fun!
Updated: Sep 16
Watch in awe as a simple rubber band jumps between your fingers, defying all logic. This trick is a quick and easy way to astonish your friends with everyday objects.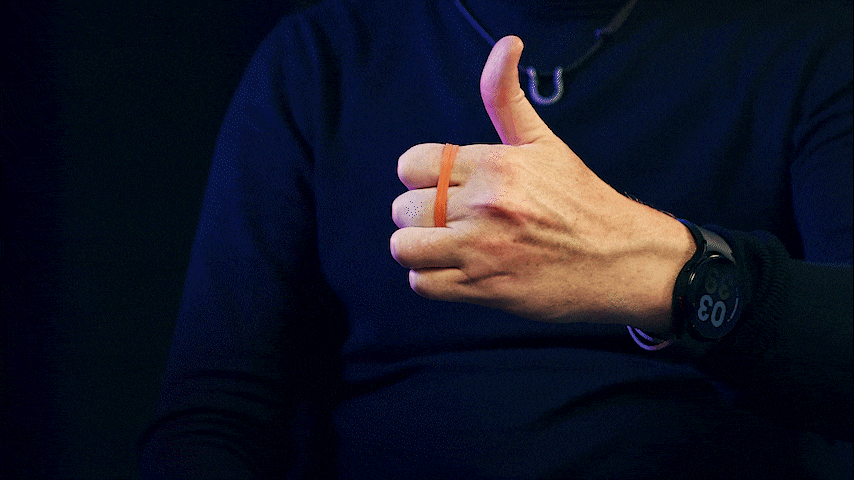 The Jumping Rubber Bands trick is a classic that every magician should learn!
Learn the Jumping Rubber Band Magic Trick
Difficulty: ⭐
Get ready to leap into the world of impromptu magic with the Jumping Rubber Band Trick!
This classic maneuver was invented by a British magician named Stanley Collins (1881-1996) and first appeared in the magician magazine, The Magician Monthly in December 1911.
It's been a favorite of amateur magicians for generations and is about to become yours too!
Keep reading, and you'll soon be hopping with excitement as you follow the step-by-step directions and video instructions below.
​Why You'll Love This Trick:
Simple to Learn: With just a rubber band and a bit of practice, you can master this trick quickly.

Impromptu Magic: Perform it anytime, anywhere, making it a versatile addition to your repertoire.

Engaging Effect: The visual jump of the rubber band captures attention and delights audiences of all ages.
What the Audience Sees:


Effect
Your audience will witness a rubber band mysteriously jump from your pinky and ring finger to your index and middle finger, all in the blink of an eye.
You can learn this trick in just 3 easy steps!
How to Perform the Trick
Everything you need to perform this trick can be examined or borrowed. Let's take a look at how this trick is done.
Elastic bands are all you need to perform this trick!
What You'll Need:
Just a regular rubber band.
Secret:
The secret lies in how you initially position the rubber band on your fingers. The magic moment happens so quickly that your audience can't see how it's done.
Let's get started with these easy-to-follow instructions!
Step By Step Instructions
Let's learn the jumping rubber band magic trick step-by-step!
Step 1.
Place the rubber band around your index and second finger.
Step 2.
Secretly stretch it behind your other fingers.
Open your hand and the rubber band jumps!
Step 3.
Open your hand, and the rubber band will jump to the pinky and ring finger.
Watch
See how to do the Jumping Rubber Band Magic Trick step-by-step:
Notes:
Practice makes perfect, so keep trying until you nail it!

Remember, the key to this trick is in the setup.

Hit the ♥️ heart button below if you enjoyed learning this trick.

Have any questions or comments? Share them, and let's make magic together!
Magic Tricks to Learn Next:
We highly recommend checking out Easy Magic Tricks with Everyday Objects that Anyone Can Do!
​Ryan Joyce is the Executive Director of the Ontario OWOW Magic Festival. Ryan is a professional magician, entertainer and speaker who has performed over 5000+ shows worldwide. He has appeared on Penn & Teller's Fool Us, Canada's Got Talent and every Canadian national television network. He has over 10+ million views on YouTube, Facebook and social media and is trusted by Fortune 500 companies to deliver world-class performance.